At Richards-Wilcox Conveyor, we believe in Industry 4.0 – where machines and robots work in harmony to achieve your goals. We seamlessly integrate conveyor systems with existing and engineered robotic systems, while still exceeding the quality engineers have come to expect.
Robotics integration is second nature in Industry 4.0, as more and more companies add automated solutions to their existing systems across a wide range of general industries. We are specialists in conveyor robotics integration, with quite a simple approach to a complex process: conveyor and computer work as one. Thanks to adaptive modular design, we can make any of our lines robotic.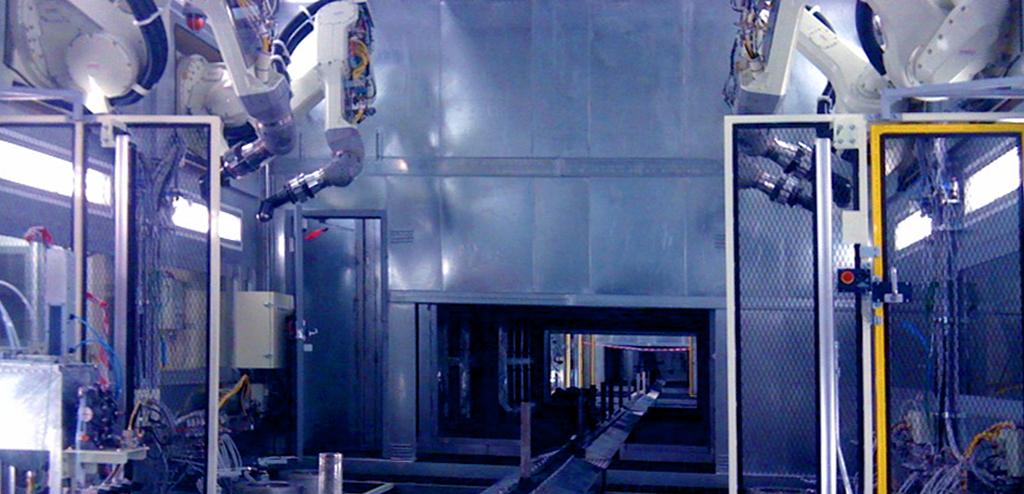 We've been in the business since before the dawn of robotics, and we've led the way as robotic interfaces have grown ever more integral to our industry. Our highly evolved systems meld seamlessly with our conveyor designs to facilitate safe, efficient processes where conveyor and computer work as one.
One of the key benefits of robotic integration is an easily accessible graphical user interface. From here, you can set process parameters. For instance, you can set defaults on your finishing robots, with built-in tolerances. We set up a robot cell: a complete system comprised of the robot, operator, and other components like a part positioner and safety environment. These cross compatible safety features include an emergency stop triggered by fault commands the instant the built-in tolerance is out of place: both robot and conveyor freeze to ensure the safety of all workers, and can just as quickly resume when the fault is corrected to minimize downtime. This workflow maximizes efficiency and minimizes risk, ensuring your industrial robots and finishing processes proceed with streamlined safety.
An additional benefit is just how thoroughly you can evolve your automated painting and finishing applications. Robotic arms are finely calibrated for automated finishing. Finishing systems can enjoy an untold level of precision and security: we ensure explosion proof parts and emergency protocols for several lines of safety.
The same principles apply to painting application. An industrial painting robot has finely tuned processes, and our painting robots are primed for pinpoint precision. Robots can load and unload, paint, QA a part, and use laser tech to scan and analyze any flaw thanks to instantaneous conveyor integration.
Yet another benefit is collaborative robotics. A common concern with robotic automation is the threat of lost jobs: this is not the case. Robots step in when a job is too hazardous or for a human, and every robot still needs an operator or two to ensure safety and efficiency of workflow. In fact, many times, thanks to new advances, robotic integration is not replacing and removing employees, but aiding and assisting workers on the floor. Collaborative robotics is an exciting new field where robots and people work in tandem on the line. Think of the expedited material handling in a fulfillment center with a robotic helper. This is perfect for automation situations when space is scarce and a human monitor is desired.
Contact a Richards-Wilcox Conveyor representative to learn how you can join the robotic revolution.