As the world changes, industries are forced to incorporate equipment designed for adaption and built for the future. Efficiency, quality, and quantity are simultaneously demanded by companies and consumers alike. In the face of extraordinary demand, selecting equipment strategically is crucial. Conveyor systems are a piece of equipment often found in the warehouse and manufacturing plants behind dozens of industries – and a specific variation can provide the efficiency required to meet and exceed demands.
Below, we explore two key advantages of utilizing a trolley conveyor system in a modern, efficient industrial setting.
What Are Trolley Conveyor Systems?
Trolley conveyor systems take many forms; however, overhead conveyor systems are most common. Simply put, overhead conveyor systems are a continuous chain or cable loop, suspended from a track. At times, carriers are attached to augment various processes. Overhead trolleys are often categorized into several different types, including manual systems, push systems, and power and free conveyors.
2 Advantages of Trolley Conveyor Systems
Overhead Trolley Systems Use Space Efficiently
As their name implies, overhead trolley conveyor systems are installed out of the way, above ground-level operations. Efficient use of space is absolutely crucial for locations with limited space.
The Twin-Trak Side-by-Side Conveyor system provides unlimited power while using space efficiently. A small factory may have limited ground level and overhead space. The Side-by-Side system is built with a dual-track for optimal volume and efficiency. Freed space can be used for other equipment. The Twin-Trak also stores work-in-process projects overhead. When needed, each piece of a project can be called down in the exact quantity and order required. However, when in disuse, the projects are stored out of the way.
Overhead Trolley Conveyor Systems Are Flexible
Most overhead conveyor systems are designed with intense, complex environments in mind. Trolley systems transport huge and varied loads at high temperatures. Often, the equipment is developed for sensitive, highly contaminated applications. The Over-Way Heavy Duty Over and Under Conveyor system is built to withstand the rigor of a variety of applications.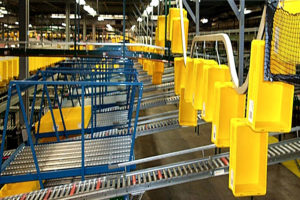 As a general task, overhead trolley systems are often used in painting systems, transporting parts through the cleaning, coating, drying, and cooling processes. Overhead trolleys find their way into a variety of industrial settings as well, playing crucial roles in transporting products among manufacturing applications. For example, trolleys may provide new supplies of cases or cartons. A trolley system may be utilized for carrying thousands of pounds of equipment. The Over-Way transports loads up to 1,000 pounds.
What makes overhead trolley conveyor systems different from a conveyor belt system? Quite simply, flexibility. Trolley systems can transport unique products, odd-shaped parts, and other items difficult to transport on a traditional belt system.
Richards-Wilcox Conveyor
At Richards-Wilcox Conveyor, we are accustomed to the demand for innovation – meeting and succeeding expectations. This is why we provide conveyor solutions designed to keep pace with a radically changing world. Each system we produce is modular, flexible, and adaptable. We have the right overhead trolley system for your applications.
To learn more about our conveyor solutions, contact us today at (888) 852-1020 or via our online contact form.