Richards-Wilcox Conveyor is well-versed in conveyor systems and engineering.
We have options available for many different purposes and needs, such as belt conveyors, roller conveyors, carrier conveyors, and enclosed track conveyors. This is because we know that conveyors are key not only in assembly applications but in distribution applications as well.
We can ensure that your distribution center is as efficient, clean, and streamlined as possible. Richards-Wilcox Conveyor has solutions that trim down features such as tote handling, empty carton return, and more. This saves on precious time, labor costs and efforts, and means that our uniquely designed trash conveyors can deposit waste to your recycling area automatically.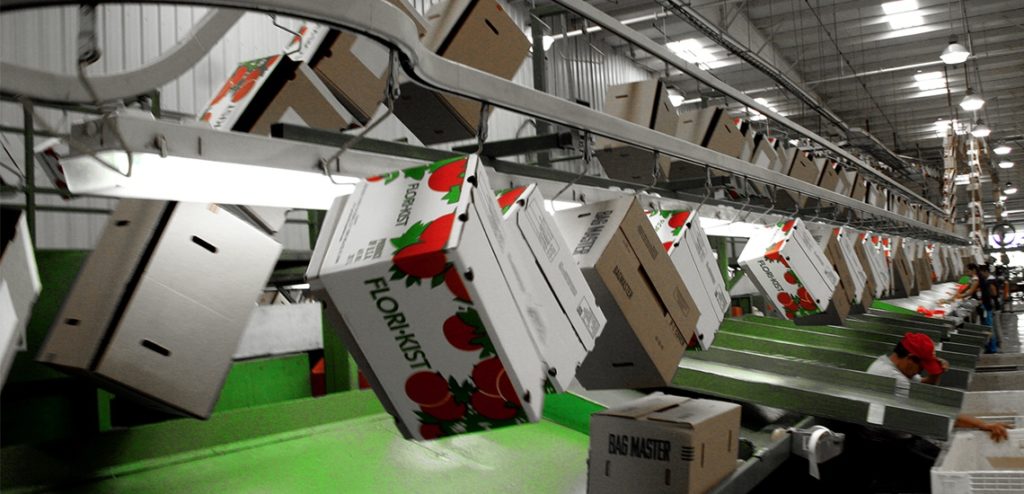 Some excellent options for distribution applications are our Inverted Zig-Zag Conveyor & Zig-Zag Enclosed Track Conveyors.
The Richards-Wilcox Inverted Zig-Zag Conveyor is the way to go for distribution applications where slick operation is paramount. It is an ideal solution for electronics manufacturing, pin systems, kitting assembly, tote conveyors, pan conveyor assembly, and package handling.
This system has an inventive design in which our inverted pendants provide vertical flexibility that is impossible to achieve otherwise. They pivot forward and backward on the wheel axel which allows rotations of up to 30° without torque and wear on the chain. Additionally, they have adjustable (and removable) load centers, modular components that allow for a speedy installation and incredibly precise use, minimal headroom requirements so that your production space is maximized, and removable pendants for ease of maintenance, replacement, and reconfiguration.
Their capacity ranges from 25-75 lbs. per load pin.
We specially designed these inverted monorail conveyors to bring the future to your factory. They accomplish this goal in a few ways:
– They eliminate drip pans and sanitary hooks, extend chain and track life – the pivoting pendant means no torque and wear on chain assembly
– Reduces maintenance – this reduces costs and downtime
– Reduces operational costs – the pendants last longer
– Increases production – with less downtime, maintenance and conveyor costs, there is a more streamlined, efficient, and cost-effective operation
Richards-Wilcox Conveyor also offers the Zig-Zag Monorail Enclosed Track Conveyor, which is the product of almost a century of invention. Our first iteration of it launched in 1938 and since then we've continuously been refining it.
With its simple and modular design, this is ideal if you're looking for overhead conveyor applications. The Zig-Zag Monorail Enclosed Track Conveyor is easily installed on manufacturing floors, in auto-body shops, receiving areas, etc. It is an ideal solution for (but not limited to) paint finishing systems, WIP buffer systems, investment casting, progressive assembly, trash conveyors, tote handling, die cast rack storage, empty carton return, plating rack storage, silver can delivery, and robotic interface.
Our Zig-Zag Monorail system has a 75 lbs./load capacity, standard packages up to 750 lb. chain pull, and vertical wheels on 6' centers. It has many benefits:
– Highly adaptable system – the only overhead chain conveyor that may be upgraded to a power and free system with only its existing components
– Enclosed track design – products are protected from contamination that is typical from open-chain conveyors. This protection also means that the chain life is prolonged.
– Standard, modular components – ease of installation, modification and maintenance.
– 6-inch pitch – shortest in the industry. This provides tighter horizontal curves, closer load pendants and less wheel loading. These add up to as much as 33% more productivity
– Standard 1'-6' horizontal and 2'-0' vertical curves – these can allow for tight changes in direction and elevation. Floor space is therefore freed up for other operations
– Vertical wheels on 6' centers – load is distributed evenly across more wheels which reduces wear. Product damage is minimized as the system can transport product anywhere
If you need more information or have more questions in order to find the perfect conveyor solution for your needs, we are always available to help you.
Here at Richards-Wilcox Conveyor, we can increase your productivity, streamline your distribution, and revolutionize your operations. Contact us for design simulation, a quote, or simply more info, and allow us to bring the future to you with our customizable, innovative solutions.