Richards-Wilcox Conveyor created the original enclosed track conveyor in 1938. We've been evolving it ever since.
Conveyors are ideal for assembly applications, and the enclosed track conveyor still proves the crown jewel of assembly line conveyor systems. Different from a belt conveyor or roller conveyors, an enclosed track conveyor boasts unique advantages: for instance, a single driving unit is capable of moving hundreds of feet of conveyor chain, meaning minimal operating cost with maximum efficiency.
We boast customizable monorail conveyor systems with system integrators in mind. Whether you need an overhead conveyor system or beam monorail conveyor, we trust the following heavy duty custom conveyor solutions will be the backbone of your factory.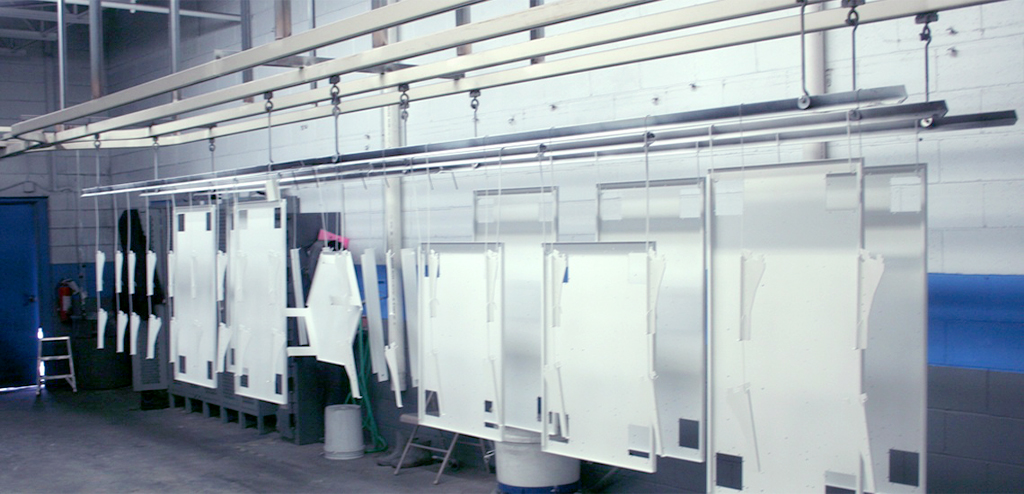 Zig-Zag® Monorail
Today, this sets the industry standard for effective material handling equipment. Using standard modular components constructed for long life, Zig-Zag® Monorail conveyors solve a variety of manufacturing problems: from simple, in-line finishing to complex storage and retrieval systems. Its 75 lbs./load capacity, standard drive packages up to 750 lb. chain pull and vertical wheels on 6" centers are well complemented by the system's versatility.
Thanks to its simplistic, modular design, Zig-Zag® Monorail tracks can be easily installed on manufacturing floors, in auto-body shops, in receiving areas, etc. Potential applications include Paint Finishing Systems, WIP Buffer Systems, Investment Casting, Progressive Assembly, Trash Conveyors, Tote Handling, Die Cast Rack Storage, Empty Carton Return, Plating Rack Storage, Sliver Can Delivery, and Robotic Interfaces.
Zig-Zag® is highly adaptable. It is the only overhead chain conveyor that can be upgraded to a power and free system utilizing all existing components. The enclosed track design shields products from contamination that typically falls from open-chain conveyors. This also protects the chain itself from airborne dirt, abrasives and solvents, prolonging the chain life.
Zig-Zag® is built with standard, modular components, making it easy to install, modify and maintain. This also guarantees quick access to parts through local stocking distributors.
At 6 inches, the Zig-Zag® chain has the shortest pitch in the industry. This allows for tighter horizontal curves and closer load pendants with less wheel loading for more product throughput. That adds up to as much as 33% more productivity.
The system's standard 1′-6″ horizontal and 2′-0″ vertical curves can make tight changes in direction and elevation, freeing valuable floor space for other assembly and storage operations.
Zig-Zag® utilizes vertical wheels on 6″ centers, distributing the same amount of load over more wheels and reducing wear. And since the system can transport product anywhere, it minimizes product damage throughout your operation.
Safe-Rail® Monorail Enclosed Track Conveyor
Efficient and expandable, the Richards-Wilcox Safe-Rail® Monorail Conveyor is the optimal solution for hand-push transport and storage applications.
Constructed of standard Richards-Wilcox components, Safe-Rail® can be upgraded at any time to build a more sophisticated power monorail or power & free conveyor system. Conversion time is minimal and higher levels of productivity and efficiency are achieved almost immediately.
It has capacity ranging from 10 to 1,000 lbs. and utilizes 3/16″ thick straight track (the heaviest in the industry). We stock it in 10′ lengths, it can do horizontal curves, (3/16″ thick, 90°). Safe-Rail® has Frog Switches, VMTs to automatically raise or lower product, a Carrier Insert Section, Welding Jigs, and Carrier Assemblies.
This is a consummate assembly rig, perfect for Batch Paint Systems, Tire Retread Systems, Tool Support Systems, Synthetic Fiber Handling, Light-Duty Bridge Cranes, and Manual Transport and Assembly.
This solution is highly adaptable. Safe-Rail® can be upgraded to a Zig-Zag® or Twin-Trak® system with 100 percent utilization of existing parts.
Safe-Rail® is a hand-push transport and storage alternative to manual re-handling of product. This decreases the potential for loss or damage.
Safe-Rail® frees up vital floor space, providing product movement throughout a facility and allowing for organized product flow.
It makes the most of the space you have. Safe-Rail® provides dedicated storage in user-specified areas. This system eliminates wasted space and efficiently stores product in an organized manner within the same work areas, day after day.
It protects your product and keeps your workers safe. Since product is suspended from a Safe-Rail® carrier, manual re-handling of product is kept to a minimum, reducing the chance of product damage. VMTs automatically raise and lower product, eliminating injuries related to lifting and bending.
And it's built to last. The enclosed track design protects carriers and runways from dirt and other contaminants. In addition, Safe-Rail®'s sliding frog plates support loads through switches providing both smooth travel and longer switch life.
Richards-Wilcox Conveyor can custom design any of the above systems, and beyond. The future is here: we'll evolve your factory to match.