Richards-Wilcox Conveyor is the master of conveyor systems engineering. We specialize in engineered systems and creating custom solutions. Material handling and fabrication are crucial warehouse operations, and we excel in optimizing conveyor systems design to solve for custom material handling & fabrication. But before we talk conveyor design, there are many factors to consider about your factory and your needs
Our conveyors are ideal for many types of material handling equipment situations, like fulfillment centers and fabrication facilities.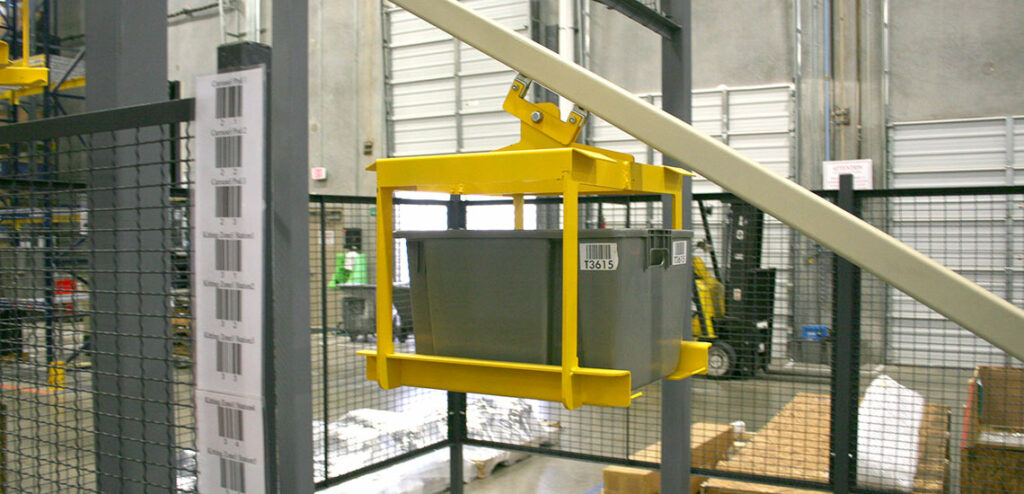 Material handling is about getting goods and raw materials from point a to point b in the most efficient manner possible. Your chosen solution should correspond to your needs: if your traffic is intermittent or has insufficient volume and needs a variable path, then an industrial truck may do the trick where the cost of a conveyor cannot be justified. But in a flowing factory, material handling equipment manufacturers, a conveyor is a game changer for process and productivity. Cardboard boxes hanging from hooks on an overhead make for an effective pick and pack solution. A floor-mounted conveyor belt can make for effective tote handling. It's important to have the correct corresponding types of industrial material handling equipment including hand trucks and pallet trucks (make sure they are equal to the height of the fixed conveyor for easy loading and unloading at conveyor stops).
Sometimes materials are not headed to market, but destined for warehouse storage systems like push back racks: we can also help with high-density storage solutions.
To accommodate all these various needs, there's no better bulk material handling system than a monorail conveyor. Custom material handling solutions call for ease of use, and so Richards-Wilcox Conveyors are built with redundancy and repetitive decision-making in mind to ensure efficiency and ease of use. These cost-effective workhorses seamlessly integrate into your production line, and the setup is completely customizable to whatever type of materials order pickers need. Whether you go with our Zig-Zag® Monorail Enclosed Track conveyor, or one of our inverted floor-mounted models, your workflow comes first.
The same considerations can be said of fabrication applications.
Fabrication is a catchall term for many methods of molding and manipulating metals into various shapes and states. Machining; where excess metal is removed to achieve the desired shape, through drilling, turning, or milling; punching, the process of piercing holes through the metal; and many more permutations from folding to shearing and stamping.
Conveyor systems design can be crucial for the flow of fabrication. For such intensive volume of often dangerous work, automation is essential. Precision is a key consideration, so each Richards-Wilcox system is deftly timed, and even run through simulations so the end-user can see how the system will work, before it's even built. Furthermore, each of our conveyor systems can be seamlessly integrated with robotic components. In this exacting world, both operator and OS enjoy extensive safety measures with built-in tolerances. We even consider your trash conveyors: the slider bed with a guardrail that creates a trough to dispose of debris to disposal points, from cardboard to metal scrap.
At Richards-Wilcox, we've designed conveyor systems for a vast array of companies over a number of decades. Let's fabricate a solution together: we have the materials, and the minds to handle them.