The Richards-Wilcox Powered

Overhead Zig-Zag Conveyor

in the Houston Food Bank is moving over 750,000 lbs. of food per day to help thousands of American families affected by COVID-19. Here's the full story.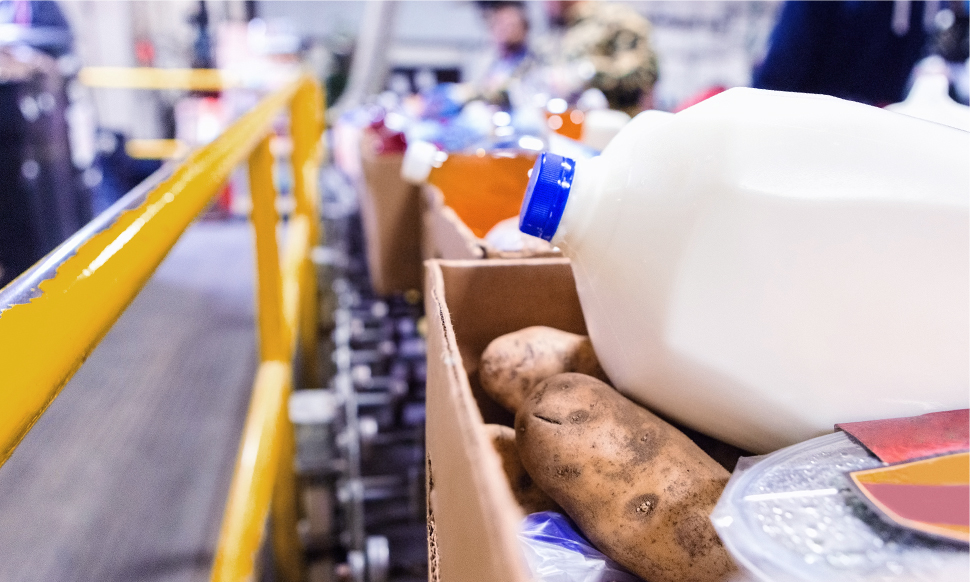 COVID-19 is impacting our lives in unthinkable ways. While medical professionals are working tirelessly to control the pandemic's direct impact on health, an army of frontline workers across sectors are taking unprecedented measures to mitigate the indirect socioeconomic impact of the pandemic on the community.
As people continue to lose their jobs, more and more Americans are becoming food insecure. Hunger Relief Organization, Feeding America, is now preparing to feed 17.1 million people, on top of the 37 million that they already serve. Not surprisingly, food banks are starved for resources and manpower needed to meet the growing demand.
As the largest Feeding America Food Bank in the country, our client Houston Food Bank is going above and beyond to ensure every American family is able to put food on their table in these difficult times.
A few years ago, Richards-Wilcox Conveyor had the opportunity to design a conveyor system for the Houston Food Bank. We knew that the Houston Food Bank couldn't afford downtime. A lot of families depended on them. Our goal was to help automate their process with minimal human intervention and increased efficiency. A goal that seems all the more relevant and significant in the current times.
"Randy Degood with Progressive Handling reached out to us to help design a conveyor system for the Houston Food Bank. After several ideas and input from all parties, we developed a system that allows them to prepare 750,000 lbs. of food per day."
–
Matt Chorski, Systems Sales Manager, Richards-Wilcox Conveyor.
Today, we're proud to see our conveyor hard at work in the Houston Food Bank – supporting President Brian Greene and his team on the frontlines of the COVID-19 crisis.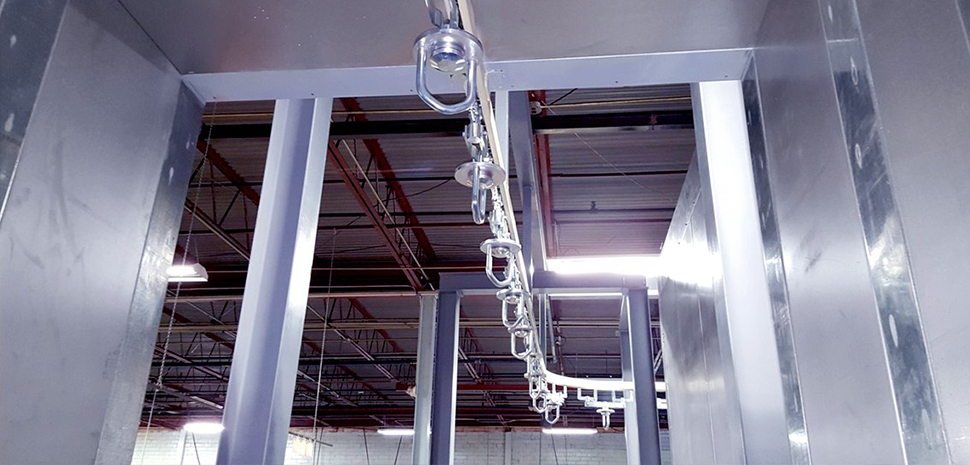 The COVID-19 crisis also brings to light the importance of cleanliness and hygiene in protecting people from the pandemic. By reducing manual handling of food, our conveyors not only help the Houston Food Bank meet the strict safety and sanitary regulations, but also maximize productivity and process efficiency.
Designed to be durable and reliable — while providing flexibility and customization, our powered overhead Zig-Zag conveyor is helping the Houston Food Bank respond faster, stronger, and smarter to COVID-19. The Richards-Wilcox team is proud to work with clients like the Houston Food Bank, and engineer conveyor solutions that keep factories future-ready at all times.