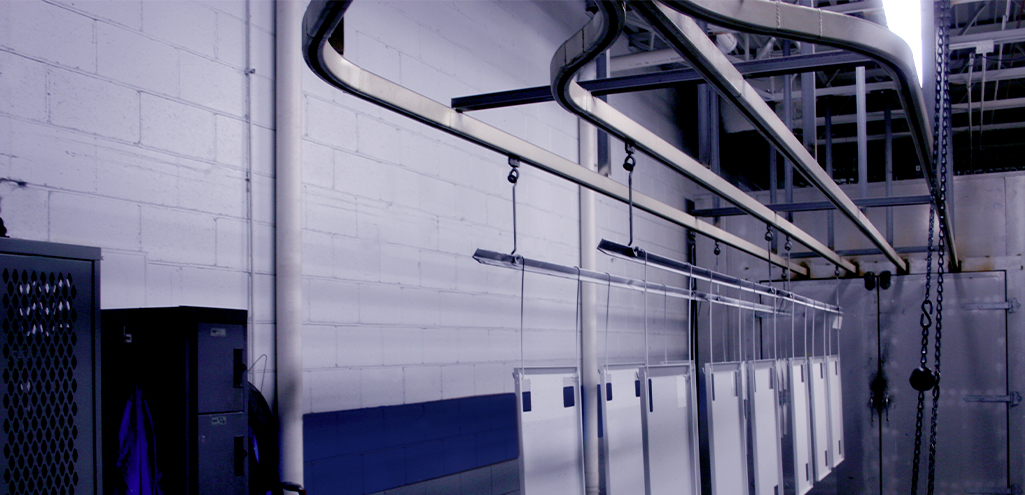 As powder-coating applications take the finishing industry by storm, clients are coming to Richards-Wilcox Conveyor for help designing, integrating and reconfiguring their own finishing lines.
These clients have a lot of questions about powder coating. But there's one we've been hearing more than any other:
"When designing a powder-coating line, should I invest in a manual batch-type system or an automated line?"
The answer isn't as clear-cut as you might think. In fact, it all depends on your workflow, your volume, your budget, and your floorspace.
Let's take a closer look.
Manual Batch-Type Systems vs. Automated Lines
For those who don't know, a manual batch-type system is the more hands-on variety of powder-coating production line. In batch systems, operators begin by manually preparing parts, moving items from one device to another using carts or a manually operated conveyor. Once a batch of parts is ready, it is then coated and cured.
As the name suggests, an automated line automates this process. Rather than using human labor to prepare batches of parts, an automated conveyor system continuously moves individual parts through the entire process, from prep and drying to application, curing and cooling.
So, which is better: manual batch or automated?
The truth is that neither system is inherently better—both have their benefits and drawbacks. One is more efficient, while the other is more flexible. One is more expensive, while the other is more labor-intensive.
How do you find the right system for you? Start by considering these four factors.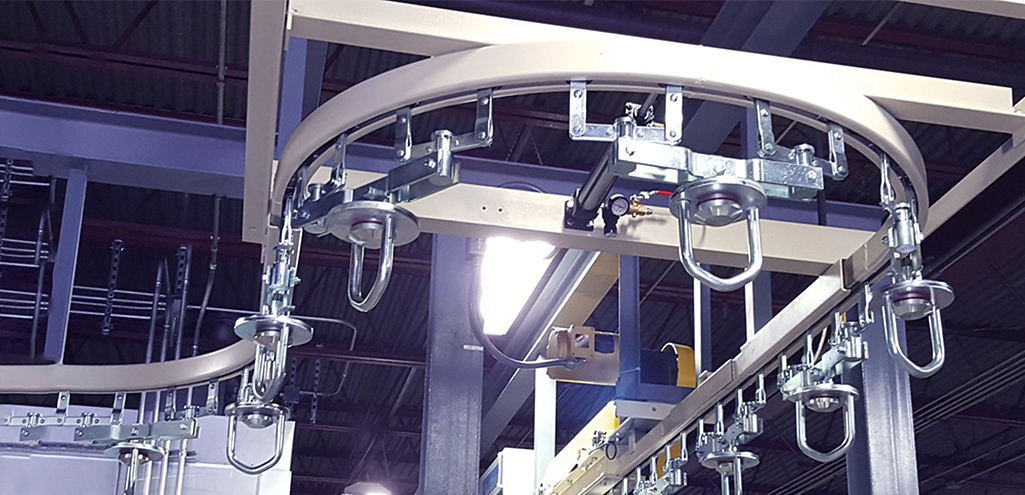 #1: Volume & Regularity
In general, automated lines are best suited to coating higher volumes of parts, as long as those parts have consistent sizes and shapes. If you're coating thousands of similarly sized parts per shift, automated is probably the right fit.
Batch systems are typically slower than their automated counterparts, but they're also more versatile. While automated systems must be reconfigured to account for irregularly shaped parts, manual systems don't. It may be more efficient to go manual if you're working with lower volumes of irregular parts.
#2: Floorspace
Manual systems typically require fewer components – for example, one oven can be used to both dry and cure parts – which makes them a good fit for businesses with limited floorspace.
However, just because you're tight on space doesn't mean an automated line is impossible. Richards-Wilcox Conveyor has worked with clients to make automated lines fit in surprisingly limited spaces.
#3: Speed
Manual batch systems are generally slower than automated. If your powder-coating system outpaces the manufacturing process, then that may not be an issue. But if your powder coating process is delaying output, then you may need to speed things up with automation.
Automated lines can be designed for rapid throughput, creating a constant flow of parts to keep pace with other manufacturing processes. If you need speed, go automated.
#4: Budget
Manual batch-types systems are typically seen as the budget-friendly alternative to automated lines. The upfront cost of manual systems is significantly less; and although they require more human labor, their maintenance costs and operating costs are often much lower.
Then again, the relative efficiency of a system all depends on the other three factors we listed here. If your system is operating at full capacity, producing thousands of products per shift and keeping pace with your other manufacturing processes, an automated line may be necessary to help you meet production goals.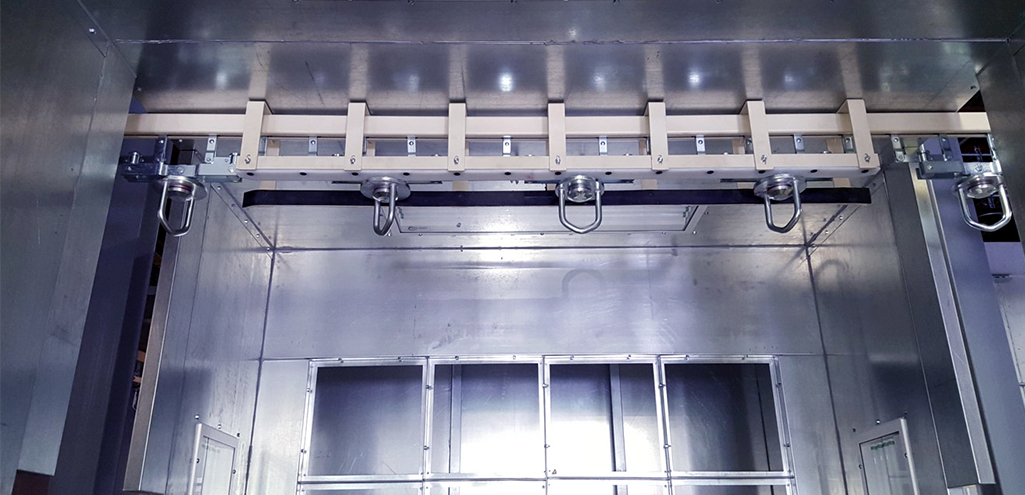 We'll help you identify and design the optimal system for your finishing line.
Whether it's a smaller manual operation or a large-scale automated line, Richards-Wilcox can create a system that maximizes your efficiency and helps your business achieve its goals.
From designing layouts and installing conveyors to integrating robotics and automation, we leverage decades of experience and key partnerships to create the right solution for your needs.